You may not be aware of the coccyx, your tailbone, and its relevant (or irrelevant) place in your life, but when it hurts, you remember it's there. And you want fast relief. Because a coccydynia cure is elusive for many family doctors, you need specialized services from the nationally recognized pain doctors at NY pain management. Using the most advanced diagnostic equipment and the latest treatment options, you'll be able to sit pain-free once again.
Your tailbone, called the coccyx, is situated at the end of your spine. As the spot that takes a lot of the weight and pressure when you're seated, it can be responsible for enormous pelvic pain and discomfort if it's been injured, strained or bruised.
Coccydynia refers to this condition, which usually occurs more often in women than men because childbirth is a common way for the coccyx to be traumatized. Falling or a similar blow may also result in the need for coccydynia treatment. Rarely, tumors or infections are factors of your pain. If you're in pain when you sit, seek treatment for coccydynia at the top pain clinic in Manhattan.
The Coccydynia Cure
Made up of three-to-five bones with some degree of fusion between them, the coccyx is a triangular appendage left from the vestigial tail everyone had as babies in the womb. The bones are surrounded by ligaments and tendons, any of which can be bruised, injured or stressed.
Research shows that up to 90 percent of all coccydynia sufferers find relief and a coccydynia cure with non-surgical methods. When you look for chronic pain management doctors near me, you'll find board-certified physicians who rely on the most advanced pain treatment techniques available. At Pain Management NYC, the doctors use a multidisciplinary approach to solve your painful health issues.
Symptoms of Coccydynia
The coccyx provides stability for when you're in a seated position, as well as flexibility for your pelvis and hip bones as you move. Because women have broader pelvic structures than men and because babies pass over the coccyx during childbirth, women are five times more likely than men to require treatment for coccydynia. Some common symptoms include:
Pain when sitting, leaning backwards or on hard surfaces because it increases the weight and pressure placed on your coccyx
Localized aching soreness and tenderness that usually doesn't spread throughout the pelvic region or the legs
Pain that's aggravated by the motion of sitting down or standing up, as the coccyx changes position
Pain and discomfort associated with bowel movements or sexual intercourse
The pain can range from mild and nagging to shooting and severe, depending on your anatomy and the underlying cause of the discomfort. If the structural instability persists, coccydynia has the potential to affect the surrounding ligaments and become a chronic condition, which is why you need to rely on the best pain doctors in NYC to receive a clear diagnosis and the best treatment for your particular situation.
Diagnosing Coccydynia
Your doctor first needs to consider all the possible causes for your coccydynia pain to facilitate a coccydynia cure. He may test the flexibility of your hip joint, as those with too much flexibility (hypermobility) or too little (hypomobility) are often more likely to have the coccyx be the cause of the pain.
Your pain specialist may ask about your exercise habits, sleeping conditions, weight management and childbirth experiences. He may also palpitate the lower region of your back and buttocks to detect any unusual movement or look for possible bone spurs or tumors. This tells your doctor if your coccyx pain is referred from other regions, for example from your sacroiliac joints.
Although usually not necessary, your doctor may order imaging tests such as x-rays, CT scans, or MRIs on occasion. Specific localized nerve block injections pinpoint the exact location of your injury by providing pain relief for specific nerves. Rarely, blood work may be ordered to rule out infection or tumors.
Coccydynia Treatment
A large percentage of sufferers see real results with non-surgical methods and activity modification as the first line of recommended treatment by your pain doctor. These treatments include:
Over-the-counter medication that reduces inflammation and provides pain relief
Activity modification that helps alleviate pressure on the coccyx and gives your ligaments and tendons a chance to rest and recover
Hot and cold packs to relax muscles and dull pain
Diet changes to ensure easy bowel movements and to relieve constipation
Specialized pillows, such as modified doughnuts that provide pressure relief for your tailbone
Injections to stop pain and reduce inflammation
Manipulation and stretching by a trained professional to correctly realign your spine and relieve cramped muscles and ligaments
Therapeutic massage to relieve pressure
TENS unit that provides low-intensity electrical impulses to tightened and uncomfortable tissue, encouraging relaxation and healthy blood flow
On rare occasions, if non-surgical options haven't worked or there's concern regarding infection or tumors, an operation to remove the coccyx may be recommended. This procedure isn't performed very often because the recovery process can be long and painful. Your top pain management doctors in Manhattan always advise you about the most beneficial treatment for coccydynia. Contact us for specific recommendations.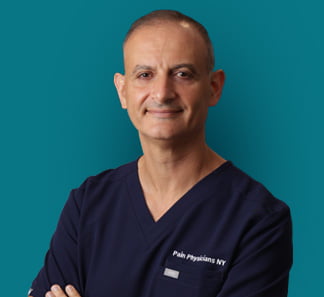 Boleslav Kosharskyy, MD, is a top-rated, best-in-class interventional pain management doctor. He is board-certified in Anesthesiology, Interventional Pain Medicine, and Palliative Care.
Dr. Kosharskyy is an Associate Professor of Anesthesiology and Rehabilitation Medicine at Albert Einstein Medical College. He's also the Associate Medical Director of Pain Medicine and Director of Anesthesia for the Joint Replacement Center at Montefiore Medical Center and Albert Einstein Medical College.
He is an active member of the American Society of Anesthesiology (ASA), the American Society of Regional Anesthesia and Pain Medicine (ASRA), and the New York State Society of Anesthesiologists (NYSSA)