In General
This sales page is owned and operated by The Pain Management NYC. This page defines proper use of and interaction with this site and the services (henceforth called the "Services") offered therein. This document's terms, conditions and notices (the henceforth called "Terms of Service") govern your interaction with the site. Your use of the Services indicates your agreement to comply with all Terms of Service, which are subject to change at any time. It also indicates your agreement to provide accurate data and consent to the processing described herein. Learn how we will use your data in the privacy policy.
The website is subject to downtime, and access is allowed only on a temporary basis. Parts of the website may be made unavailable or have restricted access, at the discretion of the site owners and without notice.
Privacy Policy
Prohibitions
Misuse of this website is prohibited. Encouragement of criminal activity, spreading of viruses and other malicious materials, or offensive or obscene materials, hacking or attempting to hack, data corrupting, annoying other users, infringing upon copyrights, and soliciting unauthorized. Those found in violation of these rules will be found criminal offenders and reported to the appropriate authorities by https://www.painmanagementnyc.com.
The website is not responsible for DOS, viruses or any other form of cyber-attack that affects your computer, hardware, software or data while browsing the website, downloading from the website, or following links listed on the website.
Intellectual Property, Software and Content
All content on this Website is the intellectual property of the site remain the property of or its licensors. All such content, including photographs are under protection of copyright law and international treaties. These rights are reserved by https://www.painmanagementnyc.com and its licensors. Commercial or public use of these materials is strictly prohibited.
Terms of Sale
Your placing an order is an agreement to purchase services based on the terms and conditions put forth herein. Product and service price, availability and shipping times are subject to change, and we will not be held liable for shipping delays, damages or lack of availability.
Business transactions with https://www.painmanagementnyc.com require that you be over 18 years old and own a valid credit or debit card from a bank we approve of. We will send you can email to confirm the details of your order. We reserve the right to refuse to serve you or your order. We at https://www.painmanagementnyc.com assume no responsibility as either agent or principal in third party transactions. By becoming a client or placing an order, you agree that all the personal details you've provided are accurate and that you are the owner of the credit or debit card that you use.
(a) Our Contract
The email acknowledging the receipt of your order does not constitute acceptance of your order. Acceptance is not indicated until you receive an email from us stating that your order has been shipped. The goods indicated in the email are the only ones that will be listed as part of the newly formed contract.
(b) Pricing and Availability
All details, descriptions and prices listed on this website are subject to change. Once you place an order, we will notify you of any product detail errors as soon as possible and offer you the option to cancel or modify your order. If there is a problem with your order, and we cannot reach you, we will cancel the order. Users with canceled orders will receive a full refund. Some orders are subject to delivery fees which will be reflected in the 'Total Cost.'
(c) Payment
When we receive your order, we run an authorization to ensure that you have sufficient funds to cover the transaction. Once authorized, we debit the card, and the money received therefrom will put towards the cost of the goods you ordered. You will then receive the confirmation email once the order has been shipped.
Disclaimer of Liability
We do not guarantee the accuracy of any information on this site. Unless explicitly stated, we assume no responsibility whatsoever for damages of any kind. We are also not liable for any personal harm you may suffer as a result of our negligence or misrepresentation.
Linking to this Website
You are permitted to link to our homepage, permitted you make it clear that you are not endorsed by or affiliated with us. You must not establish a link from any website that is not owned by you. You may not frame this webpage on any other site, and you may not link to any page other than the homepage. Your links are subject to removal without notice.
Copyright Disclaimer
All trademarks that appear on the site, including names. They are used for identification purposes only and in no way imply affiliation with.
Indemnity
No one affiliated with us is liable for any damages that result from your use of this website or your failure to follow the terms of service.
Variation
https://www.painmanagementnyc.com holds the right to change or remove, without warning, any services or page listed on this website.
Invalidity
Should there be any part of these Terms of Service that cannot be enforced, it does not render any of the other parts unenforceable. So far as possible where any clause/sub-clause or part of a clause/sub-clause can be severed to render the remaining part valid, the clause shall be interpreted accordingly. If any part of an unenforceable clause can be removed while preserving the meaning of the clause, it shall be severed and the remaining part of the clause enforced accordingly.
Complaints
We operate a complaints handling procedure which we will use to try to resolve disputes when they first arise, please let us know if you have any complaints or comments.
Waiver
Should you act in violation of these terms and we do nothing, we still reserve the right to act should you commit another violation in the future.
Entire Agreement
The preceding terms take precedents over any previous agreements formed between you and https://www.painmanagementnyc.com. Any deviation from these terms must be written, approved and signed by a Director of https://www.painmanagementnyc.com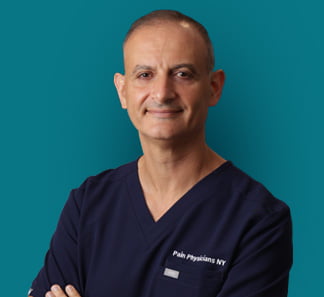 Boleslav Kosharskyy, MD, is a top-rated, best-in-class interventional pain management doctor. He is board-certified in Anesthesiology, Interventional Pain Medicine, and Palliative Care.
Dr. Kosharskyy is an Associate Professor of Anesthesiology and Rehabilitation Medicine at Albert Einstein Medical College. He's also the Associate Medical Director of Pain Medicine and Director of Anesthesia for the Joint Replacement Center at Montefiore Medical Center and Albert Einstein Medical College.
He is an active member of the American Society of Anesthesiology (ASA), the American Society of Regional Anesthesia and Pain Medicine (ASRA), and the New York State Society of Anesthesiologists (NYSSA)