Joint pain is common in the United States. Without treatment, it can limit your ability to fully participate in all your favorite activities. Seek a top injury doctor in New York City for effective pain treatment. One of the more conservative procedures is joint injections, which deliver pain medication directly into the joint that's causing your pain. When you need to get out of pain so you can get on with your life, call Pain Management NYC for fast, effective treatment.
What's a Joint Injection?
A joint injection is a minimally invasive procedure for joint pain relief. When administered by top NYC pain specialists, the pain-relieving injections deliver medication directly into your joints that are causing pain. The injections treat painful or swollen joints to get you back on your feet and back to your daily routine.
An injury to any joint affects your range of motion and hinders your ability to do most daily activities. If you're among the millions of Americans who live with joint pain, a joint injection is one of the best pain management alternatives.
The NYC pain management doctors at Pain Management NYC in Midtown Manhattan offer different joint injections, including for your:
What Do Joint injections Address?
If you're suffering from chronic pain, you can benefit from a joint pain injection. Your pain management doctor in NYC may recommend a joint pain injection as an alternative to other treatments, such as opioids or surgery.
Joint injections can temporarily solve a wide range of painful conditions, including:
For pain management in NYC, visit the top back pain specialists in Manhattan. At Pain Management NYC, they use a multi-disciplinary approach to control your pain, including joint injections.
What Are the Different Joint Injections?
The best pain management doctors in New York City choose the most appropriate injection based on an assessment of your painful joint.
Some common joint injections include:
Steroid injections. These injections contain a corticosteroid medication and a local anesthetic to relieve pain and reduce inflammation. Your doctor injects the medication right into the joint.
Trigger point injections. Targeting trigger points in your joints, these injections relax muscle tension, inflammation, muscle trauma and an acute injury.
Platelet-rich plasma injections. PRP injections contain a concentration of platelets from your own blood. Platelets have beneficial properties that speed up the healing of injured tissues, including tendons, ligaments and muscles.
Nerve blocks. These injections deaden the affected nerve in your joint, keeping it from sending pain signals to your brain. While these injections don't address the source of the pain, they allow you to move forward with other treatment without pain.
What Are Joint Injections for the Shoulder?
Any injury to your shoulder's structure can lead to debilitating pain. Shoulder injections are among the best pain management techniques in Midtown Manhattan. Top pain management doctors use different injections to relieve your shoulder pain.
These injections can help you overcome a rotator cuff injury, a shoulder impingement, a shoulder sprain or strain or even shoulder arthritis.
The best pain management doctor in NYC may recommend a shoulder injection, such as:
Suprascapular nerve block
Steroid injection
PRP injection
Trigger point injection
What Injections Are Used for Elbow Pain?
Common causes of elbow pain include arthritis, cellulitis, infected elbow joint, elbow injuries, golf elbow, tennis elbow and cubital tunnel syndrome.
After an examination, your pain management doctor may recommend a:
Steroid injection to reduce inflammation
PRP injection
Trigger point injection
Pain in your elbow limits your ability to do most daily activities. Consult the best pain doctors in Manhattan for effective pain relief.
What Knee Joint Injections Are Effective?
Reasons for a knee joint injection include a sprained knee, knee arthritis, patellar tendonitis, iliotibial band syndrome and chondromalacia patella.
Knee pain lowers your quality of life because you can't participate in life fully when your mobility is limited. Effective knee joint injections include:
Steroid injections
PRP injections
Viscosupplementation
Nerve blocks
Trigger point injections
What Joint Injections Are Useful for the Wrist?
Common causes of wrist pain include wrist injuries, hand injuries, carpal tunnel syndrome and wrist tendonitis.
Effective treatments include wrist injections such as:
Steroid injections
PRP injections
If you have nagging pain in your wrist, talk to a pain doctor in NYC for the best treatment. They always recommend conservative treatments, like wrist injections, before more invasive treatments.
What Hip Injections Are Effective?
The main causes of hip pain include hip injuries, a labral tear and hip tendonitis. Because the hip joint bears your weight, it's liable to get damaged, especially as you get older.
Hip pain can turn your life upside down. Your pain specialist in New York City may recommend an injection for pain relief, such as a:
Steroid injection
PRP injection
Nerve block
What Joint Injections Treat Ankle Pain?
Your pain management specialist in NYC may recommend ankle pain injections that include:
Hyaluronic acid (hyaluronate) injections
Corticosteroid injections
PRP injections
Stem cell injections
Some causes of ankle joint pain include foot pain, an Achilles tendon, plantar fasciitis, perineal tendonitis and reflex sympathetic dystrophy. Unless you've broken a bone, a joint injection may ease your ankle pain.
What Are Joint Injections for the Foot?
Foot pain affects your ability to walk without assistance. The main causes of foot pain include trauma, injury, infection, bursitis, gout, structural foot problems, inflammation, and arthritis.
The most effective joint injections your pain management doctor in NYC may recommend include:
Steroid injections
PRP injections
If you suffer from any form of joint pain, contact the best pain doctors in Manhattan. The specialists at Pain Management NYC offer treatments to ease your pain and restore function in your joints.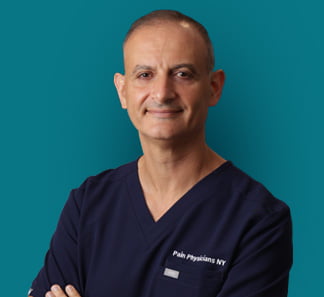 Boleslav Kosharskyy, MD, is a top-rated, best-in-class interventional pain management doctor. He is board-certified in Anesthesiology, Interventional Pain Medicine, and Palliative Care.
Dr. Kosharskyy is an Associate Professor of Anesthesiology and Rehabilitation Medicine at Albert Einstein Medical College. He's also the Associate Medical Director of Pain Medicine and Director of Anesthesia for the Joint Replacement Center at Montefiore Medical Center and Albert Einstein Medical College.
He is an active member of the American Society of Anesthesiology (ASA), the American Society of Regional Anesthesia and Pain Medicine (ASRA), and the New York State Society of Anesthesiologists (NYSSA)