Education empowers our patients to ask the right questions, seek answers, and fully participate in their pain relief treatment care. Not only is it a staple in our pain management practice, but it is also the foundation of our success.
In our private practice, physicians prioritize high-quality, individualized pain care while utilizing cutting-edge diagnostic and therapeutic procedures. Our doctors provide the most technologically advanced, safest, and time-tested pain treatments, including the latest Minimally Invasive Spine procedures such as Discseel and Vertiflex and the newest regenerative therapies including VIA Disc and Stem Cell Therapy.
INJECTIONS – SPINE
INJECTIONS – MUSCLE & JOINTS
NERVE BLOCKS
MINIMALLY INVASIVE SPINE SURGERY
REGENERATIVE THERAPY
INFUSION TREATMENTS
Our practice offers a personalized treatment approach based on each patient's unique characteristics and pain level. To find out more or schedule an appointment, call us at: (212) 224-9555.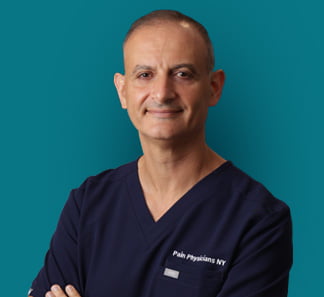 Boleslav Kosharskyy, MD, is a top-rated, best-in-class interventional pain management doctor. He is board-certified in Anesthesiology, Interventional Pain Medicine, and Palliative Care.
Dr. Kosharskyy is an Associate Professor of Anesthesiology and Rehabilitation Medicine at Albert Einstein Medical College. He's also the Associate Medical Director of Pain Medicine and Director of Anesthesia for the Joint Replacement Center at Montefiore Medical Center and Albert Einstein Medical College.
He is an active member of the American Society of Anesthesiology (ASA), the American Society of Regional Anesthesia and Pain Medicine (ASRA), and the New York State Society of Anesthesiologists (NYSSA)