When pain originates in your pelvis, very often the culprit is sacrum pain. So many different conditions can lead to lower back pain that it's become one of the most common reasons people miss work in America. That's why you must seek the advice of experienced, board certified pain management doctors, like those at Pain Management NYC. These back pain specialists thoroughly diagnose your specific pain so they can treat it effectively. Call them to get out of pain.
Studies show that 90 percent of the population will experience lower back pain at some point in their lives. For 10 to 25 percent of these people, it involves the sacrum or sacroiliac joint pain. The sacrum is a triangular shaped bone that creates part of the back wall of your pelvis.
The sacrum is held firmly in place by several large muscles and ligaments.It's partly responsible for bearing your weight and transferring weight to your lower limbs. Because of its location and the structures in and around it, several conditions can cause sacrum pain, which you may think of as more general pelvic pain.
Primary Causes of Sacrum Pain
Your pelvis holds important internal structures, but the sacrum is a bone. While there are a few conditions that originate in the bone, the majority of problems that cause sacrum pain are a consequence of a disease process that occurs in a nearby structure, such as the ligaments, tendons, muscles or other soft tissues.
A wide variety of disorders can lead to sacrum pain, including a genetic defect. Some of the sources for sacrum pain include:
Trauma from high-energy impact fractures or repetitive motion fractures that must be strong enough to cause a major fracture, which is potentially fatal or at least debilitating
Infections, such as sacroiliac joint infection, pelvic abscesses, and osteomyelitis
Arthritic or inflammatory conditions like osteoarthritis, irritable bowel, rheumatoid arthritis, and gout
Tumors that metastasize, such as giant cell tumors and sacral canal tumors
Disc Herniations that cause your bones to compress, placing additional pressure on your sacrum
Sacrum pain doesn't differentiate much between men, women or races. Most of the causes, except for congenital defects, appear in adults. Trauma that fractures the sacral bone is more common in women, older adults and those with a decrease in bone density. Adults who live a sedentary life or are obese are also more prone to sacrum problems.
Symptoms of Sacrum Pain
The hallmark symptom of a sacrum injury is back pain, but the pain2 can have different characteristics, depending on the cause of your sacrum pain. Knowing the severity, onset, location and how it radiates throughout your body helps your pain doctor diagnose the root of the pain. Pain can have specific qualities, such as:
Sharp and stabbing
Shooting
Dull or achy
In case of fractures, the pain is usually localized over the area and is often associated with cuts, bruising and swelling. Sacroiliac joint involvement pain appears most likely over your buttocks and radiates down your leg. It tends to get worse when sitting, lying on the same side or climbing stairs. Most often, the pain radiates to different parts of your leg.
The Pain Doctor Will See You Now
Top pain doctors near you at pain treatment center New York specialize in diagnosing and treating sacrum pain. Because sacral issues have the potential to be debilitating, visit the best back pain specialists in Midtown, especially if you're suffering from chronic pain. They take a multi-pronged approach to treatment, both to alleviate pain and promote healing.
Ongoing sacrum pain may mean a serious underlying issue. Severe short-term sacrum pain, especially following a recent trauma, may indicate a sacral fracture. Consult with top injury doctors in NYC to start your sacrum pain relief treatment as soon as possible. Untreated, your pain can worsen.
On Your Way to Sacrum Pain Relief
After a thorough medical history and physical examination, including specific range-of-motion and movement tests, your pain doctor may order blood and imaging tests, such as an x-ray, CT scan or MRI to help diagnose your sacrum pain. With access to rapid, accurate lab and testing facilities, you get a firm diagnosis quickly.
Most sacrum pain issues are treated conservatively and only need minor changes in your lifestyle. And most people improve within weeks to several months with conventional sacrum bone pain treatment, including:
Rest
Over-the-counter pain medications
Physical therapy and exercise
Ice/heat therapy
Minimally Invasive Treatment and Prevention
At NY Pain Management, your pain doctors have access to the most advanced pain treatment options and diagnostic equipment in New York. Using a multi-disciplinary approach, your treatment may consist of:
A hip injection of anti-inflammatory pain medication
FDA-approved prescription pain medications for short-term use
A pelvic belt
Minimally invasive surgery and rehabilitation,if your sacrum pain is the consequence of a debilitating injury or disease
The most essential sacrum bone pain treatment is preventing future injuries. Follow these tips at home and on the job:
Use proper lifting practices
Maintain good posture
Get regular exercise that stretches and strengthens your sacrum
Create ergonomic work areas
Stop smoking
Practice good nutrition
Maintain a healthy weight
But if you do hurt your sacrum or develop a medical condition that forces you to seek relief from sacrum pain, contact Pain Management NYC for a consultation.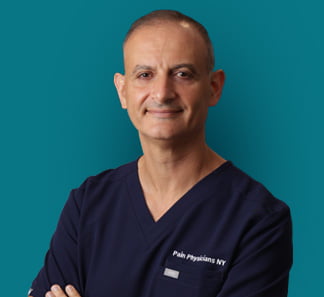 Boleslav Kosharskyy, MD, is a top-rated, best-in-class interventional pain management doctor. He is board-certified in Anesthesiology, Interventional Pain Medicine, and Palliative Care.
Dr. Kosharskyy is an Associate Professor of Anesthesiology and Rehabilitation Medicine at Albert Einstein Medical College. He's also the Associate Medical Director of Pain Medicine and Director of Anesthesia for the Joint Replacement Center at Montefiore Medical Center and Albert Einstein Medical College.
He is an active member of the American Society of Anesthesiology (ASA), the American Society of Regional Anesthesia and Pain Medicine (ASRA), and the New York State Society of Anesthesiologists (NYSSA)