Aging doesn't mean you have to live with pain every day. In fact, even arthritis, one of the insidious conditions that often accompanies the aging process, doesn't have to slow you down. When the infliction strikes your shoulder, you'll notice considerable lack of mobility. Thanks to the advanced diagnostic and treatment options available at a pain clinic near you, you have options. Visit the experienced, caring team of pain specialists at New York City pain management for a thorough evaluation and proven treatment options.
Your shoulder joint is actually made up of two separate joints:
The acromioclavicular joint, more commonly called the AC joint, where the tip of the shoulder bone meets your collarbone
The glenohumeral joint, where your shoulder blade and upper arm bone meet.
Arthritis can affect either of these joints, causing shoulder pain, stiffness, weakness and reduced mobility. If you're battling rheumatoid arthritis, both joints may be affected. Although the pain and discomfort of shoulder arthritis can feel similar regardless which joint is involved, effective treatment works best when you rely on the most advanced diagnostic techniques employed by the leading pain doctors in Midtown at New York pain management clinic.
Symptoms of Arthritis in the Shoulder
The most common symptom of shoulder arthritis is pain. Your pain is often aggravated by activity, and it can get progressively worse if left untreated. If the AC joint is arthritic, the pain usually radiates from the front of your shoulder. If the glenohumeral joint is affected, the pain emanates from the back of your shoulder and often seems to change with weather conditions. Other symptoms include:
Limited mobility, making it more difficult to raise your arms over your head
Clicking or snapping noises within the joint
Sleep disruptions, as the pain in your shoulder makes it uncomfortable to rest on the affected side
Diagnosing Your Shoulder Arthritis
A physical exam, along with a medical history and x-rays, are the best diagnostic tools for arthritis in the shoulder. During your exam, your best shoulder arthritis specialist in NYC may also assess:
Any areas that are tender to the touch
Places affected by weakened muscles
Signs of possible injury
Any other joints or muscles that might be involved
Whether you have crepitus, which you recognize as the crackling, grating noise common in arthritic joints
Any other pain or weakness in your shoulder
An x-ray may show evidence of bone spurs, narrowing of the normal spaces between the joints, or any other changes or malformations in the bones and surrounding structures. The x-ray images help your pain management specialist determine the method of treatment that will provide the most relief.
Treatment Options for Shoulder Arthritis
The pain doctors in Manhattan deliver the latest in pain treatment options. They always begin with the least invasive methods of treating your shoulder arthritis. Rest, changing activities, over-the-counter pain relievers, and hot and cold packs work well to treat the initial stages of arthritis.
If you've been diagnosed with rheumatoid arthritis, prescription medications or site-specific corticosteroid injections very often relieve your pain successfully while reducing any inflammation. Physical therapy also helps to increase flexibility and strengthen adjoining muscles to take pressure off your affected joints.
Supporting Your Shoulders
There is no cure for arthritis, but treating it early is beneficial to slow the disease and minimize the damage. If you catch it early, you can begin to incorporate exercise and lifestyle modifications, as recommended by your pain doctor to help alleviate pain. Shoulder exercises condition the muscles and provide relief and support for your shoulder arthritis. Exercises include:
Strengthening exercises for your scapula-stabilizing muscles, which provide needed support across your shoulder joints to lessen pressure in one area
Stretching exercises to increase flexibility that enables a variety of daily activities
Aerobic workouts that maintain low-impact rhythms to increase the healing blood flow throughout the body, including your shoulders
Osteoarthritis involves the breakdown of your joints. Pressure, wear-and-tear and inflammation can cause small pieces of bone to break off or ligaments or tendons, like your rotator cuff, to develop tears. Minimally invasive surgery may be required to remove these offending pieces or repair tears.
Drastic Measures
For younger or more robust individuals, complete shoulder replacement techniques are being perfected and may soon become commonplace. If you opt for shoulder replacement, you may find a complete reversal of arthritic symptoms once you've fully recovered. But recovery in this sense may require a minimum of six weeks.
You must have the following characteristics to undergo shoulder replacement surgery:
An intact and fully functional rotator cuff and deltoid muscles
Adequate bone structure with little to no signs of bone deterioration
Pain that isn't helped by other nonsurgical treatments and continues to adversely affect your daily life
The motivation to carefully follow your doctor's post-op recommendations to rehabilitate properly
While arthritis hits many older Americans, you don't have to just live with its consequences. The nationally recognized pain specialists at Pain Management Clinic NYC can find the best treatment options available for your shoulder arthritis concerns. Contact us today for an appointment.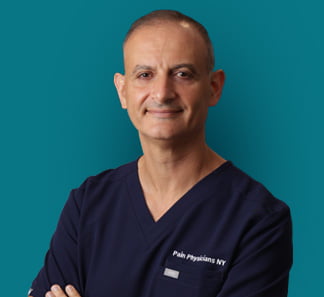 Boleslav Kosharskyy, MD, is a top-rated, best-in-class interventional pain management doctor. He is board-certified in Anesthesiology, Interventional Pain Medicine, and Palliative Care.
Dr. Kosharskyy is an Associate Professor of Anesthesiology and Rehabilitation Medicine at Albert Einstein Medical College. He's also the Associate Medical Director of Pain Medicine and Director of Anesthesia for the Joint Replacement Center at Montefiore Medical Center and Albert Einstein Medical College.
He is an active member of the American Society of Anesthesiology (ASA), the American Society of Regional Anesthesia and Pain Medicine (ASRA), and the New York State Society of Anesthesiologists (NYSSA)