Your lower back, also referred to as the lumbar spine, carries a lot of your weight. When you develop pain there, one of the reasons may be spinal stenosis. A Superion Vertiflex procedure is a minimally invasive surgery to correct the abnormal condition by placing a small implant device between two vertebrae for support. The implant protects your bones while eliminating the pain. When you're ready for the latest technology to stop your back pain, come to the experts at pain management Manhattan for a consultation.
Superion Vertiflex is a medical implant that sits between two bones in your spine, called vertebrae. The implanted device helps reduce the pressure on the bones and any friction that causes lower back pain, hip pain and especially any pain in your legs. The pain management doctor in NYC has to examine you completely to determine if you're a good fit for the Vertiflex procedure.
Correctly diagnosing the reason for your pain is the important first step toward resolving your pain. The cause of the back pain may be due to any number of conditions or injuries, including:
Before you opt for minimally invasive spine surgery, you'll most likely undergo more conservative back treatments, which top pain doctors in Manhattan usually recommend first, such as:
Understanding Lumbar Spinal Stenosis
Lumbar spinal stenosis is a wear-and-tear disorder that leaves the passageways in your lower spine narrower. This of course makes it more difficult for your nerves and spinal cord to pass through, which causes excruciating pain. Reasons for the narrowing include:
Thickening of the ligaments that connect two vertebrae that then block the openings through which your nerves pass
Bone spurs that form from an overgrowth on the sides of your vertebrae between the joints
Herniated discs, which leak gel-like material into your spinal column
When you're suffering from lumbar spinal stenosis, you have severe pain in your legs. You may even feel pins-and-needles tingling, numbness, weakness or cramping. You aren't able to walk long distances without feeling pain. And you can't stand for extended periods of time without feeling tightness in your groin and pain in your back and down your legs.
How the Vertiflex Procedure Works
A Superion Vertiflex implant is the safest way to relieve the pain caused by lumbar spinal stenosis. The implant is made of a titanium alloy, so there's scant chance of any body rejection. Most NYC pain specialists wait up to six months while trying other treatments before recommending the Vertiflex procedure. If you're still suffering from pain, then you may be an ideal candidate for it.
The Superion Vertiflex comes in assorted sizes to accommodate your needs. Your doctor may recommend that you lose weight if your body mass index (BMI) ranges near or over the obese level. Because the staff at this pain management clinic in NYC practice a multidisciplinary approach to wellness, they can set you up with an appropriate diet and exercise regime.
Superion Vertiflex keeps the passageways between your vertebrae unobstructed so that the spinal nerve can pass without any pressure. This helps to relieve your lower back pain, giving you the flexibility to bend and move without hurting. You may have to take a few tests, such as an MRI or x-ray, to determine the extent of the damage to your spine.
Getting the Superior Vertiflex
Before you begin, your pain doctor in NYC needs to know if you suffer from osteoporosis or have an abnormal spine curve. Both of these conditions make the Vertiflex procedure unsuccessful. The Vertiflex procedure is minimally invasive spinal surgery. It involves a small cut in your back through which a tube is inserted. The right size of the Superion Vertiflex is measured using the tube. Then your top pain management doctor NYC fits the implant between the two vertebrae causing the pain.
You may need more than one Vertiflex device if there are other places where your bones are causing you pain. After the surgery, avoid any strenuous physical activity for at least six weeks. You may need to go back to NYC pain managemen clinic for a check-up in four to six weeks to allow your doctor to observe your healing process. A Superion Vertiflex implant device typically lasts for 48 months.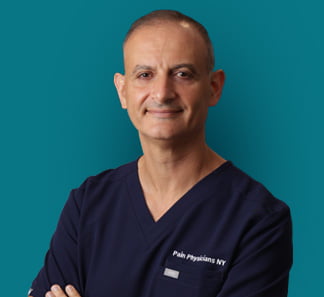 Boleslav Kosharskyy, MD, is a top-rated, best-in-class interventional pain management doctor. He is board-certified in Anesthesiology, Interventional Pain Medicine, and Palliative Care.
Dr. Kosharskyy is an Associate Professor of Anesthesiology and Rehabilitation Medicine at Albert Einstein Medical College. He's also the Associate Medical Director of Pain Medicine and Director of Anesthesia for the Joint Replacement Center at Montefiore Medical Center and Albert Einstein Medical College.
He is an active member of the American Society of Anesthesiology (ASA), the American Society of Regional Anesthesia and Pain Medicine (ASRA), and the New York State Society of Anesthesiologists (NYSSA)