Without timely and proper treatment, sports injuries can hinder your progress significantly, no matter what your level of participation is. Whether your symptoms are due to an accident, overuse, or poor technique, our sports injury clinic in NYC is equipped with the most advanced, cutting-edge equipment to treat pain and help you get back to the activities you love.
The interprofessional team of neurologists, physical therapists, and pain rehabilitation specialists at Pain Management NYC will work closely with you to help you achieve the highest level of performance with minimal risk of re-injury.
What Happens in a Sports Injury?
A sports injury can occur whenever you are active, whether you are participating in your preferred sport or simply walking down the street. When an injury occurs, it is frequently unexpected, caused by a bump or incorrect turn. When you suffer a sports injury, the most common sites of discomfort are in your joints, such as your elbow, shoulder, back, and hips.
Certain traumatic events, such as a head injury, necessitate urgent medical attention. Regardless of the culprit behind your injury, seek out the leading sports injury specialist, such as Dr. Leon Reyfman or Dr. Boleslav Kosharskyy, for a thorough medical examination. They are considered to be the top pain management experts who specialize in sports injury treatment in NYC and are available for consultation in Brooklyn, Queens, Manhattan, and the Bronx.
What Can Cause a Sports Injury?
Some of the most common causes of injuries when playing sports or engaging in physical activity include:
A sudden change in direction
Direct impact
Going overboard when exercising
Osteoporosis, a condition that renders your bones more prone to fractures
Muscle disproportion
Muscle, tendon, or ligament weakness
Previous sports injuries
Leading a sedentary lifestyle or utilizing the gym equipment incorrectly
Wearing inappropriate footwear
Running in worn-out shoes, particularly around the heel area
Not using protective equipment during high-impact sports
Sports injuries are usually accompanied by intense pain that comes on suddenly, along with swelling and soreness. The damaged area of your body could not even be mobile. Moreover, if it's a break, fracture, or dislocation, you can have a bone or joint out of alignment. Do not postpone getting treatment when your head or spine is injured. Your Pain Management NYC sports injury doctor has seen every scenario and can make a prompt diagnosis and provide the appropriate care.
Which Are the Most Common Sports-Related Injuries?
When thinking of certain sports, the most common injuries in basketball are facial injuries, dislocated fingers or sprains, and fractures of ankles and knees. In cycling, the most common injuries include shoulder dislocations or fractures and head injuries, such as fractures and concussions. Those who play soccer are at a higher risk of suffering from dislocated fingers and shoulders, facial injuries and sprains, and fractures of the knees and ankles.
When it comes to football and rugby, there is a high risk of suffering from dislocated knees, shoulders, a traumatic head injury, or broken and dislocated fingers. When playing baseball and softball, injuries that more commonly occur include facial injuries, fractured and sprained knees, or fractured and sprained ankles. Hockey players most commonly suffer from dislocated knees, shoulders, broken and dislocated fingers, or traumatic head injuries. In boxing, the most commonly occurring injuries include a broken jaw, broken nose, facial injuries, and lacerations or traumatic head injuries.
Such injuries don't only occur to adults and only to professional athletes. Children who are 14 years old or younger also suffer from injuries while playing sports. However, a traumatic injury isn't as likely to occur in adolescents. It is a brain injury that is still the number one cause of death that occurs in children after a sports-related injury. Such injuries occur mostly during activities such as skating, skateboarding, cycling, or similar activities.
Acute vs. Chronic Sports Injuries
There are two types of sports injuries: acute and chronic. Acute injuries, such as a fractured bone, occur fast and are frequently followed by significant pain. You will most likely lose function and will need urgent medical assistance.
Chronic injuries occur slowly and progress in stages. They most commonly occur due to repetitive movement or improper form. They can also be caused by a previous injury that did not heal correctly. Chronic overuse injuries outweigh acute injuries in the majority of sports. However, their impact is underestimated since they are not immediately devastating with visible loss of function.
However, because it is challenging to manage an injury after it has worsened effectively, athletes in NYC should seek sports pain management for chronic injuries and not dismiss any discomfort or symptoms. Your risks of sustaining an acute injury might also be increased by chronic ailments. For instance, if you favor one foot over the other owing to tendonitis, your chances of sustaining an acute injury are higher.
Conditions We Treat
As an athlete or simply a person leading an active lifestyle, you are always prone to injury, from sprained ligaments to broken bones. Sports pain management is a specialty field that caters to the active person, with the goal of helping you perform at your best. Common sports-related injuries include:
Knee Injuries
An injury to the knee results in swelling, discomfort, and limited movement but can be managed non-surgically with physical therapy. Sprains, tears, fractures, bursitis, tendonitis, and runner's knee are among the most prevalent knee injuries.
Neck Injuries
Neck injuries vary in severity, but they should never be taken lightly. An injury to your neck can happen at any time for a number of reasons, but your age and occupation might make problems with your neck more likely. Fractures, sprains, pinched nerves, spondylosis, and whiplash are some of the most frequent neck injuries.
Back Injuries
Back injuries are quite frequent, and they can harm the discs, vertebrae, muscles, and surrounding tissue in your spine. Back pain can be brought on by a variety of various back problems. Back muscle strains and sprains, disc herniation, lower back pain, and mid-to-upper back pain are all among the common ones.
Foot & Ankle Injuries
Foot & Ankle Injuries may occur from a direct blow, a penetrating injury, or a fall. They can also happen if you twist, jerk, jam, or bend your limbs in an unusual way. Some of the most common types include Achilles tendonitis, heel spur, ankle sprain, stress fractures, and Plantar Fasciitis.
Rotator Cuff Injuries
Rotator cuff injuries are quite prevalent. The majority of them are wear-and-tear injuries caused by repetitive arm movements, particularly those that involve extending the hand over your head. The tissues of the rotator cuff may deteriorate with time, resulting in tendinitis, bursitis, and tears.
Sports Pain Management
You can always count on prompt medical attention for sports injuries after your doctor has established a diagnosis. The majority of sports injuries require an examination, a description of how the injury occurred, and imaging tests before the specialist can determine the cause of your symptoms. When it comes to injury rehabilitation in NYC, your sports injury doctor may warrant one or more of the following treatment modalities:
Trigger point injections to help with pain
Steroid injections into the lower back if the discomfort is there
Compression taping to reduce swelling
Physical therapy exercises tailored to your ailment
Exercises you may do at home to strengthen weak muscles in milder cases
Acupuncture or massage
Joint injections for the hip or shoulder
Soft tissue injections for strained or torn ligaments or tendons
Medial branch block for groin discomfort
The pain management specialists at our sports injury clinic opt for non-invasive, interventional therapy. The extent of the injury will determine how invasive your treatment would be.
Preventing Sports Injuries
The majority of our patients come to us already after being injured or having been in pain for some time. However, wherever possible, we encourage athletes and active individuals to come in for injury prevention sessions, during which our doctor for sports injuries can detect muscular instability and weakness, which can contribute to injury, develop warm-up and cool-down regimens, teach good form, and more to prevent an injury from occurring.
How to Avoid Sports Injuries
You may safeguard yourself while playing sports with a few easy preventive measures. Some tips you should consider to lessen your risk of suffering a sports injury include:
Wear the proper sports gear
Warm up, stretch, and cool down
Maintain regular, repeated, and consistent training regimen
Remember to stop playing right away if you get hurt so you can get medical attention. You run the risk of aggravating your injuries if you play until the game is over.
Sports Injury Doctor Near Me
When looking for effective rehabilitation after a sports injury, choose experienced pain doctors specialized in protocol-based management of common sports injuries using an integrated approach to ensure full recovery, minimize time off from sports, and prevent re-injury.
Locate a sports injury doctor near you who would develop and supervise each respective component of the recovery process for both musculoskeletal and soft tissue injury using the highest quality medical and surgical supplies to deliver the best care.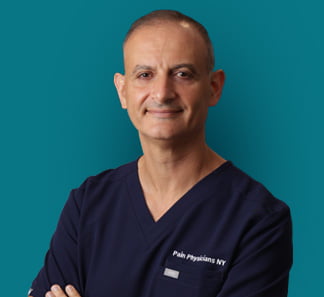 Boleslav Kosharskyy, MD, is a top-rated, best-in-class interventional pain management doctor. He is board-certified in Anesthesiology, Interventional Pain Medicine, and Palliative Care.
Dr. Kosharskyy is an Associate Professor of Anesthesiology and Rehabilitation Medicine at Albert Einstein Medical College. He's also the Associate Medical Director of Pain Medicine and Director of Anesthesia for the Joint Replacement Center at Montefiore Medical Center and Albert Einstein Medical College.
He is an active member of the American Society of Anesthesiology (ASA), the American Society of Regional Anesthesia and Pain Medicine (ASRA), and the New York State Society of Anesthesiologists (NYSSA)