When the tendon that stretches over your kneecap and holds it in place is injured, you suffer twice: first, because it's a painful injury and secondly because it limits your mobility. Patella tendonitis means that the tendon is inflamed and irritated. But all knee pain can be controlled. Visit pain management in Manhattan for relief and safe, effective healing procedures. You'll be back on your feet in no time!
Patellar tendonitis signifies inflammation of the patellar tendon. This tendon connects your knee joint — including your kneecap or patella — to your shinbone and quadriceps or thigh muscle. This painful knee condition is commonly referred as a jumper's knee, since that's often what causes it. If the knee injury is left untreated, you may develop knee problems such as a patellar tendon tear, meniscus tear or knee ligament tear.
Patellar tendon pain involves your patellar tendon, which runs down the front of your knee. You feel mild to severe pain while jumping, walking or running. You may notice bruising or tenderness on the back of your knees and legs. Sometimes, patellar tendon pain erupts when you bend or straighten your legs, such as when you sit down or get up out of a chair.
Patellar tendonitis can be mistaken for knee tendonitis. Both are accompanied with significant swelling. But knee tendonitis hurts above or below your kneecap, while patellar tendonitis hurts on the kneecap. You may also have knee bursitis too. Your pain management doctor in NYC performs a thorough physical examination of your knee injury before prescribing any treatment for patellar tendonitis.
Reasons for Patellar Tendon Pain
The main cause of patellar tendonitis is jumping or running on a hard surface. The stress on your knees when you land creates tiny tears in the tendon over time. These tears cause the inflammation and knee pain. The more you jump and run, the faster the tears occur, and the more severe your condition becomes. Eventually, it can cause a patellar tendon tear.
Tightness in your hamstrings and quadriceps adds pressure to your patellar tendon. Muscular imbalance — where stronger muscles pull harder than weaker muscles in your leg — can create additional stress on the tendon. Knee arthritis is another factor that can contribute to patellar tendonitis.
Certain medical conditions — in particular, autoimmune disease like lupus and chronic renal failure — can weaken your knee tendons. Whenever you're feeling any pain in your knee, visit NYC pain management clinic for a thorough diagnosis. The tests you take at this pain control clinic help your injury doctor determine the reasons for your kneecap pain.
Examining Your Patellar Tendon
Diagnosing where the pain is in your patellar tendon is the first step of treatment. Your NYC pain specialist in Midtown Manhattan first asks you questions about your knee injury. Tell him about any medical conditions you have that may impede the treatment for patellar tendonitis. Conditions like diabetic neuropathy or peripheral neuralgia also may contribute to your knee pain.
When your pain doctor examines your knee, he usually lifts, twists and turns your lower leg in different directions to see how well your knee joint functions. Your doctor also may press and pull the knee joint to assess the severity of your pain. Several medical tests you may undergo include:
X-rays
MRI scans
CAT scans
Ultrasound scans
First Patellar Tendonitis Treatment Options
Treatment for patellar tendonitis depends entirely on the condition of your patellar tendon. The pain management doctors in NYC determine the most suitable course of action after reaching a diagnosis. Your doctor at Pain Management NYC suggests a couple of things to do first.
Rest is the easiest suggestion to implement. All it takes is for you to stop all activities that cause your patellar tendon pain. Apply ice packs for 24 to 72 hours after your injury to reduce the swelling. You may also be required to do some simple back and leg exercises at home to increase mobility in your knees and legs.
More Powerful Treatments for Patellar Treatments
If the more conservative treatments don't produce the results you were hoping for, return to your best pain management specialists in Manhattan. When your pain is severe, your doctor often recommends a more advanced patellar tendonitis treatment, such as:
Get the best care for your knees and get out of pain fast. Both are available at Pain Management NYC. Contact us today to set up an appointment.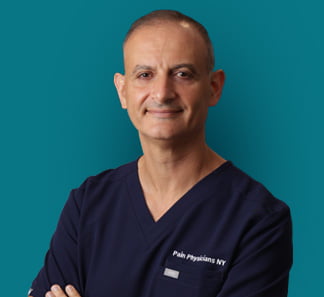 Boleslav Kosharskyy, MD, is a top-rated, best-in-class interventional pain management doctor. He is board-certified in Anesthesiology, Interventional Pain Medicine, and Palliative Care.
Dr. Kosharskyy is an Associate Professor of Anesthesiology and Rehabilitation Medicine at Albert Einstein Medical College. He's also the Associate Medical Director of Pain Medicine and Director of Anesthesia for the Joint Replacement Center at Montefiore Medical Center and Albert Einstein Medical College.
He is an active member of the American Society of Anesthesiology (ASA), the American Society of Regional Anesthesia and Pain Medicine (ASRA), and the New York State Society of Anesthesiologists (NYSSA)